Enriched curriculum combined with small class sizes and a unique location allows Birch Hills teachers to captivate your child's imagination.

Studies show that early learning is critical in creating the type of learners we will become. When children feel confident they are more willing to take new risks learning by leaps and bounds over their peers.

WHAT IF YOU COULD INVEST IN YOUR CHILD'S FUTURE NOW?
What if you could provide your child with the necessary skills to become the best student that they could be?
Birch Hills Academy is an early elementary institution with over 30 years of experience specializing in developing the skills your child must have to become a successful and independent learner.
Enriched curriculum combined with small class sizes and a unique location allows Birch Hills' teachers to captivate your child's imagination while engaging them intellectually, physically, socially and emotionally. This is Active Learning!
Studies show that early learning is critical in creating the type of learners we will become. When children feel confident, they are more willing to take new risks learning by leaps and bounds over their peers.
We have intentionally set our program over a 4-year period. Why 4 years? Primary through grade 3 are the foundation years where children learn important skills. Grades 4 and above students apply those skills to learn.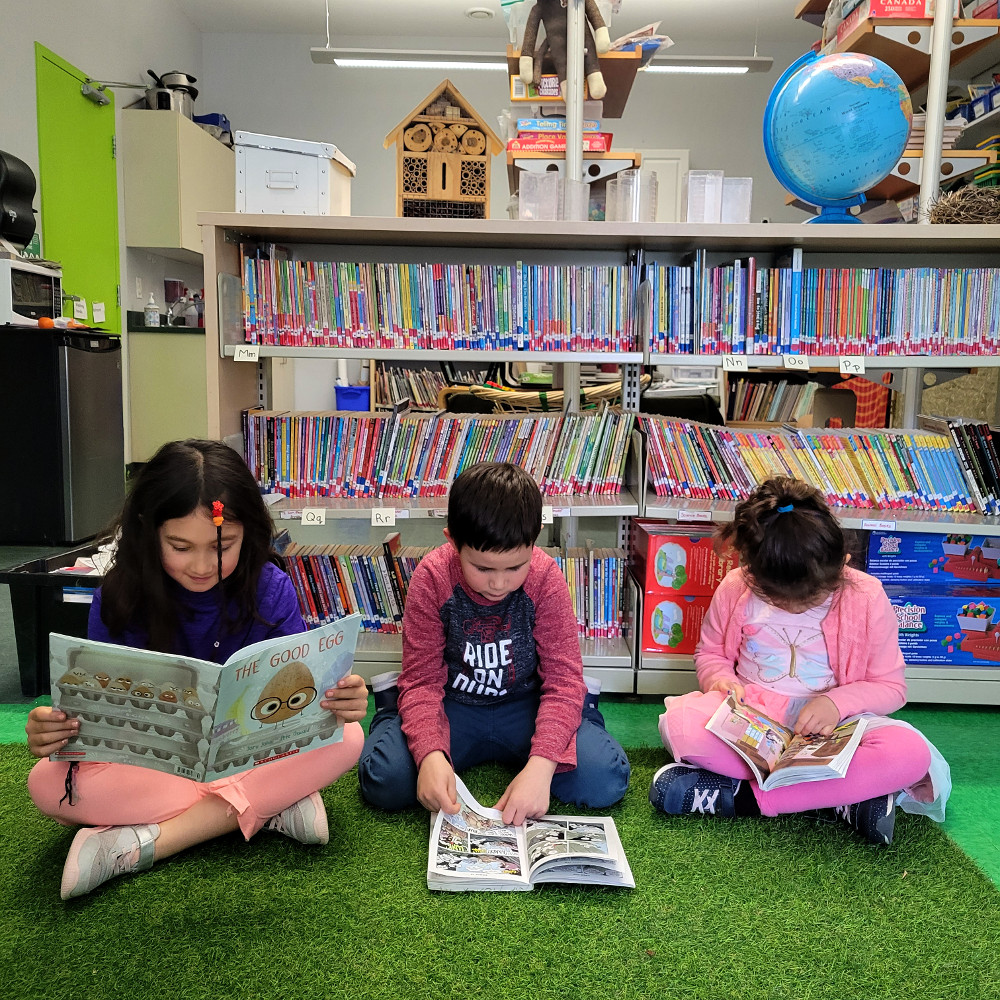 Our goal is to create students who embody the following skill set to become effective learners.
Independence - When moved into a larger setting our students are self starters and take initiative. Not ones to wait for a teacher to hold their hand through an activity, our students can take instructions and run with them.
Social awareness - Our students are aware of issues that hit close to, and far from, home and are sensitive to the needs of others.
Executive skills - We foster time management and organizational skills in our students.
Self regulation- Our students receive specific, targeted instruction to develop the tools needed for self-regulation.
Collaborative initiatives - We provide ample opportunity to work in groups and teams, developing the necessary skills for cooperation and communication.
Communication - We encourage students to communicate their wants and needs daily in classroom life. We spend time teaching questioning skills and effective communication.
Conflict resolution - We allow students the space to learn about themselves and others and how to interact with empathy for all creatures.
Curiosity - We continue to foster their natural curiosity instead of making them conform to a pre-set and rigid curriculum through close interaction with their environment and opportunities for hands on learning.
Reading - Children will seek out other learning opportunities when they are confident in their reading ability. We adhere to a rigorous proprietary literacy program that fosters reading and writing competence and a love of literacy at a young age. 
Resilience - Our children are encouraged to solve problems through experience. We learn that mistakes are an essential step in the learning process.
Resourceful- Through hands on learning, and access to an ever-changing natural environment, our children are developing the skills needed for lifelong learning.
Environmental connections - Our grounds are spacious and forested. We offer outdoor classrooms, unstructured outdoor play (recess and lunch), a school garden, nature journaling and we teach environmental stewardship.
Parents commitment - Our parents have a close relationship with the school. They are committed to the program and are an essential part of the school ethos.
Community - Our students participate in community events, such as toy drives, supporting veterans and performing at long term care homes.

Students who are successful in the classroom demonstrate some of the following common characteristics.
They have a positive mindset towards learning and the classroom, dedicating themselves to achieving their best.
They have a curiosity about the world, how it works and how to do things, actively seeking to expand their knowledge and skills.
They demonstrate the ability to take initiative with their work, not needing to rely on others to tell them what to do (self-direction).
They are aware of their learning and able to determine when they need to work more on an assignment.
They are willing to take risks in their learning and are open minded to try new things.
They persevere in a task, recognizing when they need to ask for help and doing so.
They are not afraid to make mistakes and understand that through mistakes we learn better. Making mistakes gives the learner opportunities to understand why an approach didn't work, how to correct it, and how to do better next time.

At Birch Hills Academy the learning environment supports learners to develop the skill set required to be an effective learner.
With our program your child will have the skills to be successful no matter the school environment that they enter once they leave us.
Invest in your child's future now to create a lifelong love of learning.
Our 4 year program encompasses grades primary to 3 as studies show that this is the time when small class sizes and a focus on reading create the ideal environment to achieve independent learners.
Primary - The foundation year this year focuses on engaging children's innate curiosity, creating confidence in the classroom process and building on their literacy and stem skills by having them play and interact with the world around them.
Grade One - This year focuses on how students respond to material in each subject allowing students to express their ideas through artistic expression as well as in print.
Grade Two - continuing on the skills built over the past two years students are encouraged to take risks and their successes celebrated.
Grade Three - Students are now moving from learning to read to reading to learn, a critical step in their development allowing students to move into a true independent state of learning.
We encourage multiage and small classrooms for a reason.
Multiage classrooms support social development and a continuum of learning. Children are not "held back" by specific grade outcomes. These settings develop autonomy, a spirit of collaboration and a thirst for knowledge. Age diversity is a resource that is tapped, providing leadership opportunities and collaboration.

Class Sizes – What's the Big Deal?
Apparently a really big deal! Several studies conducted over the past 30 years have shown that children who learn in smaller classes have a much better chance of success in their education.
This is especially true in the early elementary grades between primary and grade 3. Small class sizes should last at least two years, and for the longest-lasting benefits, for three to four years.
With the Tennessee STAR (Student Teacher Achievement Ratio) project the optimal class size was identified as having no more than 17 students. Analysis of the data showed that students from small class sizes were found to be between 6 and 13 months ahead of their regular-class peers in math, reading and science in grades 4, 6, and 8. Other benefits include better grades in high school courses, less likely to fail a grade level, be suspended from school, and more likely to pursue post secondary education.
Birch Hills Academy has maximum student/teacher ratios of 16 to 1. In the early grades students have access to more individualized attention from teachers to support the acquisition of the skills required to be a successful student. These include reading, writing, organization, routines, and self-regulation.
The small class sizes at Birch Hills Academy foster gains in self-esteem, independence and confidence and allow for the identification of individual student needs, as well as more individual attention.
Combined with our Creating Readers program, differentiated and active learning instructional approach, and multi-age classes Birch Hills Academy is an excellent choice of schools for your child.